"Lifeboat Jobs" will help workers stay afloat and find new career opportunities amid pandemic
Each week, SC DEW will identify four to five jobs readily available in the state.
Updated: Aug. 27, 2020 at 6:33 PM EDT
CHARLESTON, S.C. (WCSC) - Hundreds of thousands of people across South Carolina filed for unemployment benefits weekly during the early stages of the pandemic. Many have gone back to work, but others still struggle with employment because certain sectors of the workforce were harder hit than others.
At the South Department of Employment and Workforce, team members with Labor Market Information (LMI) got busy, trying to develop new ways to get people back to work. They came up with a concept called 'Lifeboat Jobs.' Lifeboat jobs are positions that can hold someone over until the economy recovers. In some cases, these career choices could lead to new, long term prospects.
"Those are the jobs that people can hop into right now hopefully if they've got some of those skills," Brian Nottingham, Director of LMI/Business Intelligence Division said.
It would help those worried about their unemployment benefits or extended benefits as lawmakers haggle over the next move to make to help laid off workers.
"These were a good opportunity that we could say, here's a job that's hiring right now, get you back on your feet, bring you a paycheck. And then moving onward from there, we've got other opportunities to sort of extend out from those lifeboat jobs, that lead to higher paying opportunities," Nottingham said.
So far 29 such positions have been identified and will be released to the public weekly. Research for the Lifeboat Job concept provides detailed information to those looking for work now, and into the future. A graph features the lifeboat job, outlines the skill set workers need in order to land one of those jobs, and how more education or additional training could evolve into another career path. Each graph is detailed with the median salary that can be expected, and anticipated growth for demand for a certain type of job over the next 10 years.
One of the first lifeboat jobs being featured is for food service managers. Nottingham says all over South Carolina, all kinds of business and industry need food service managers.
"The food service manager is essentially in charge of all of the staff that are responsible for delivering packaged food or finished meals to individuals. And they would manage things such as budgeting, scheduling, coverage, cash deposits, things of that nature," Nottingham said.
Workers with needed skills to qualify for a position as a food service manager could come from a variety of backgrounds.
"First-line supervisors of food preparation workers. These would be like your swing manager at a fast food business, other opportunities would be supervisors of housekeeping and janitorial staff, same sort of supervisory and people management skills. Perhaps if you're a manager at a beauty salon, or a barber shop that is still shut down or hasn't come back full strength since Covid-19, some of those personnel management and supervision skills could translate well into a food service job," Nottingham said.
Once a lifeboat job has been identified, you can apply by going to the SC Works website and searching for that type of position. The site will pull up all companies in your area with current openings for the job. If you'd rather talk with someone in person, all SC Works Centers are open for in-person visits, you'll just need to follow pandemic protocols for safety.
You can view the new lifeboat jobs each Wednesday on S.C. DEW social media channels and on its website. It will be listed under the News & Announcements section.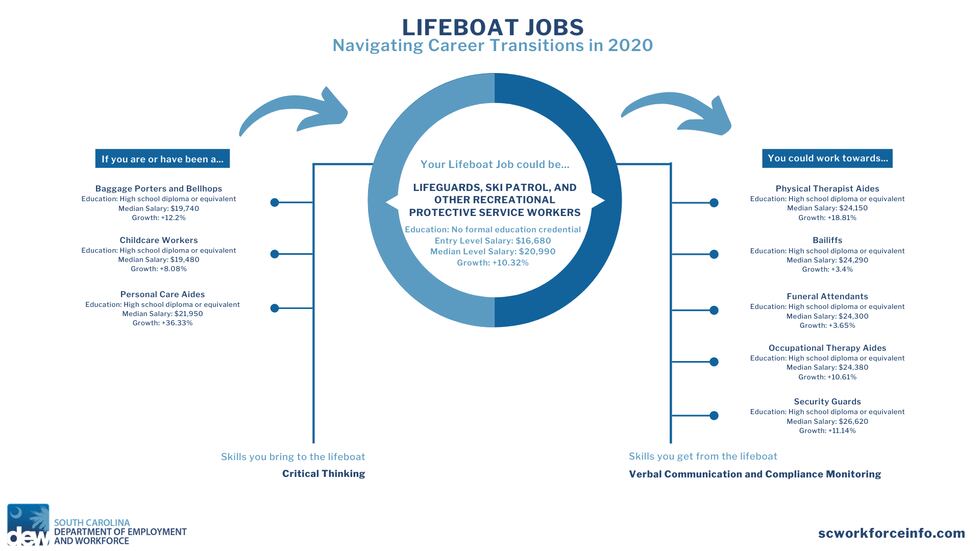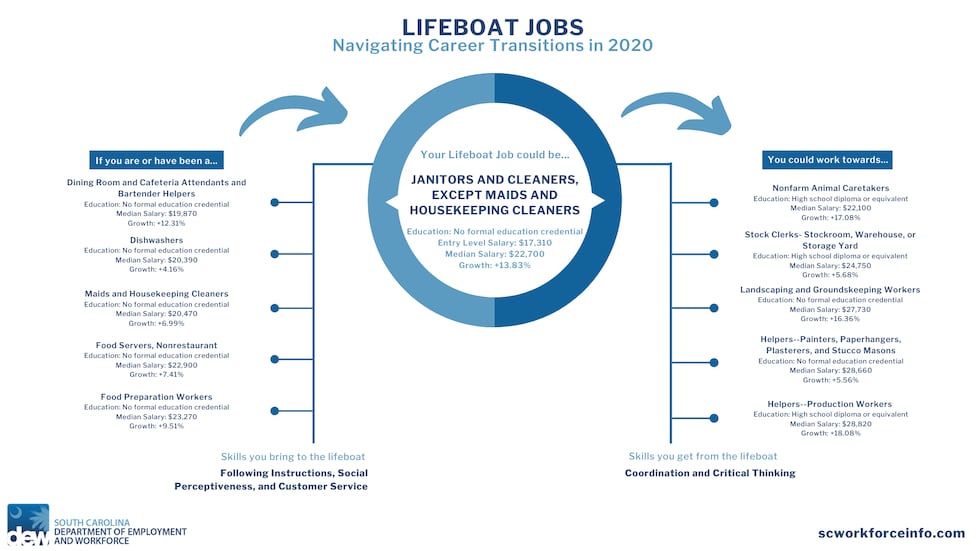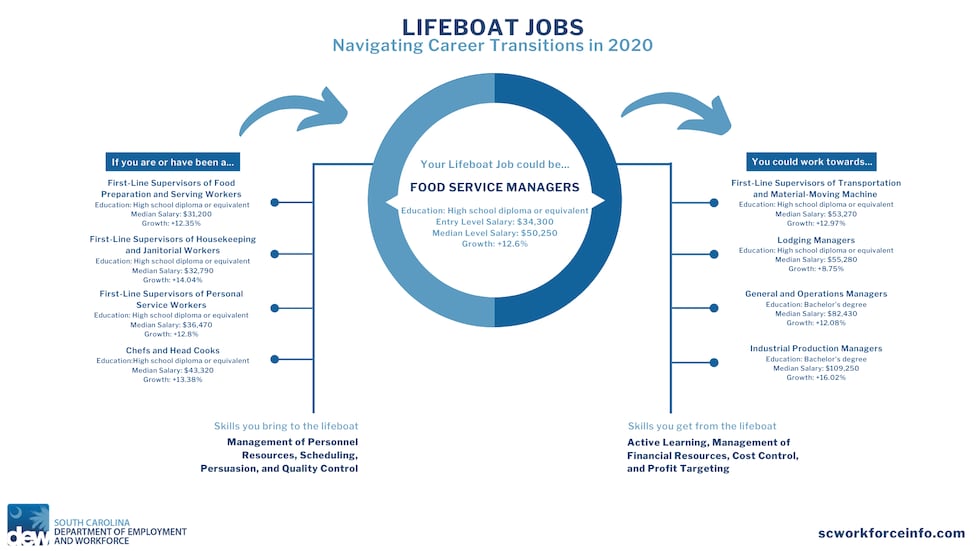 Copyright 2020 WCSC. All rights reserved.